Grouvly Agency will make your dreams come true!

Welcome Grouvly - an exclusive dating agency for singles looking for love and romance online.
If you are eager to meet an amazing Ukrainian Lady, don't miss the chance of browsing through our superb Album which comprises most charming ladies from Russia, Ukraine, Belarus and other countries. Start searching for your Miss Unique right now and don't be afraid of any difficulties as we are here to steer you through this process and encourage you every step of your way. You have failed to find the right woman in your country? Never mind! There are so many gorgeous Ukraine women listed at our agency - they are impatiently waiting for you to find them! Believe us, a Ukrainian lady is a real treasure as she is not only beautiful, affectionate, romantic and sensual - she is committed to traditional family values and can be a loyal, supportive partner. If you want to have a terrific wife, you must marry a Ukraine beauty! Still hesitating? Try dating Ukrainian brides and you will be fascinated with their femininity and tenderness. If you are not happy with the attitudes of the western women, stop just sitting at home and complaining of it - take action to change your life!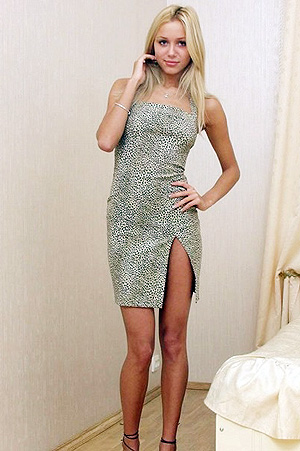 If you are attracted to a particular type of ukraine brides and have limited time to look for your Miss Right, use our search engine that will minimize your search time and effort! With our sophisticated search engine you can be as choosy as you like: delicate blonde coquettes, passionate brunettes, red-haired lovelies - we have them all in our most diverse Album! Just specify the attributes like height, weight, age, hair colour, country of origin, number of children, languages, e-mail, phone and even zodiac sign!
The best way to get to know your Ukrainian sweetheart is to meet her in person . Our specialized personal romance tours are professionally organized to ensure you make the most of your visit to the country of your special lady. Owing to the efforts of our affiliate agencies, you will have a most interesting time full of activity and excitement. Book a personal tour with Grouvly.com and get the chance to discover a new culture and enjoy the company of charming Ukrainian ladies!
You want to make your bride feel special? You can easily do it with the help of our Flower, Candy, & Gift delivery! We offer various gifts - chocolates, Teddy bears, perfume, floral baskets, etc. - that can be delivered to women from most of the FSU countries. If you want to surprise your Ukraine lady, don't waste your time! Brighten her day with a lovely gift to show your care!

Looking for a Wife... this advices tells you what must be considered if you want to find a REAL girl from Ukraine... 97 tips to finding a partner... A well-written short guide will help you with your search.Read more

Russian and American women are often compared. Who is better? Is such a comparison of absolutely different characters and mentalities regardful? Let's understand it

There is no secret that every nation has its peculiarities. We, Russians, can identify foreigners coming to our country. And what are the peculiarities of our compatriots? How and by what attributes are Slavic girls identified abroad?

According to the data of dating agencies of Kiev, Donetsk, and Lvov under the conditions of crisis the number of men wishing to find a Ukrainian bride this year grew by half. What attracts men from the whole world in Ukrainian brides? Read here

If we look at photography as a way of expression, rather than as an art form, it describes a person in details. The photos of the ukrainian girls on dating websites sometimes eloquent than the beauties, whom do they belong.